There is now an enormous volume of data about the planet generated from Earth observation systems mounted on different platforms, including satellites, airplanes, and ground-based platforms. There is also an abundance of other forms of data, such as geoscience, statistical, and social data. Integrating Earth observation data with other forms of data within a geographic context holds potential to more accurately model the complexity of Earth systems. It also helps link anthropogenic activity with resulting impacts on Earth processes.
"Big Earth Data refers to big data associated with the Earth sciences, derived from but not limited to Earth observation. Big Earth Data is characterized as being massive, multi-source, heterogeneous, multi-temporal, multi-scalar, highly dimensional, highly complex, non-stationary, and unstructured. It consists of all data related to Earth, including Earth's interior, surface, atmosphere, and near-space environment. Following the lead of big data in other disciplines, Big Earth Data is the basis of data-intensive scientific discovery in the Earth sciences."
The Big Earth Data Science Engineering Program (CASEarth) was officially approved on 1 January 2018 by the Chinese Academy of Sciences (CAS) with an implementation period of five years. CASEarth aims to draw advantages from the extensive resources of CAS to develop a data-sharing platform to host big data and cloud services. The platform draws together various fields including resource management, environment, biodiversity, and ecology, promoting major breakthroughs and scientific discoveries in Big Earth Data, and enabling comprehensive, macroscopic support for decision-making.

The ultimate goal of CASEarth is to establish an "International Research Center of Big Data for Sustainable Development Goals", which was recently announced by Chinese President XI Jinping during his address at the 75th United Nations General Assembly General Debate session on 22 September 2020.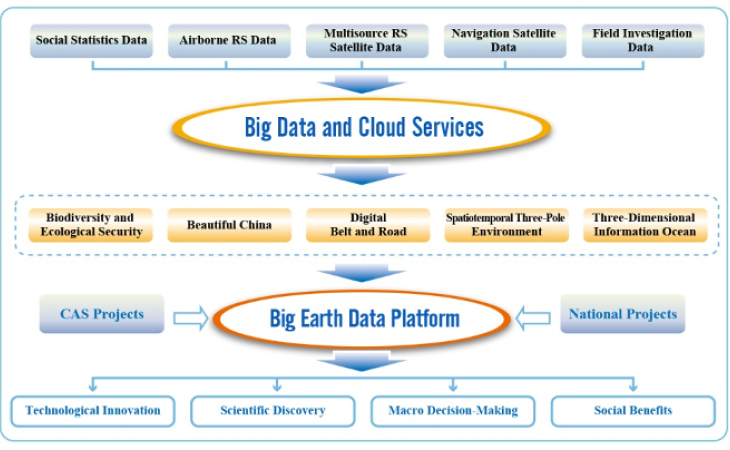 CASEarth is preparing the first Earth science satellite in China and the first human trace satellite in the world. The CASEarth satellite will provide necessary information about national urban growth, monitor the quality of coastal and offshore environments, and give insights into the status, patterns, and regional gaps in socioeconomic development in China at a very fine scale. The acquired Earth observation data will be released to the world through CASEarth, which will contribute to the Sustainable Development Goals (SDGs). The CASEarth satellite, still in the prototype phase, will be carrying multiple sensors on board including a Thermal Infrared Imager, the world's first high-resolution noctilucent Urban Low-light Imager, and an Offshore Multispectral Imager. Tests were successfully conducted in early 2020, and on-orbit deployment is targeted for 2021.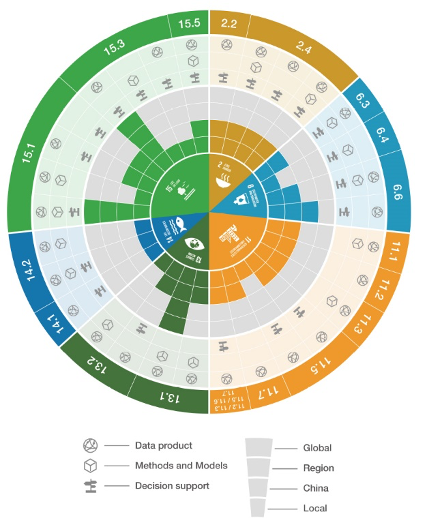 The Big Earth Data Science Platform is being developed as an online system that will provide access to Big Data Cloud Services. The platform will not only allow integration of multisource data uploaded by users but also provide cloud-based analysis tools for integrated analysis of the data. It will be an innovative platform that integrates data storage, computing and analysis, connecting different components in the Earth sciences.
CASEarth is working to formalize the process of information-based decision support in China and around the world, and several of its research activities have been published. Studies that focus on different SDGs in China have been compiled as a series of reports on Big Earth Data in Support of the Sustainable Development Goals, which were presented as part of the Chinese government's official documents submitted to the United Nations at the 74th and 75th General Assembly sessions.